Sea change for Charlie the former beach donkey – as new therapeutic calling takes him on hospice mission
Now living at Manchester's Donkey Sanctuary, 'cheeky' Charlie works his charm with patients and carers across the city.
The heatwave has crowds flocking to the country's coasts for seaside sun and fun. But, for patients at one hospice, an element of the traditional outdoors came to them – as therapy treasure and former beach donkey Charlie came to visit.
Charlie was one of a group of donkeys who worked in Scarborough before coming to live at The Donkey Sanctuary's Manchester centre, where he is involved in assistive therapy.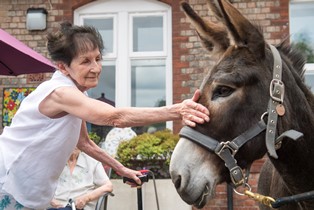 Now, aged 10, he left best friend Pringle for a morning, to visit staff, carers, patients and their loved ones at St Ann's Hospice in Cheadle.
Charlie's visit comes when end of life issues are high in the national psyche, after former MP Tessa Jowell's plea to the House of Lords, just weeks before she died,  to recognise that 'in the end, what gives life meaning is not only how it is lived, but how it draws to a close'.
The visit was arranged by Manchester Health and Care Commissioning (MHCC) – a partnership between Manchester NHS clinical commissioning Group and Manchester City Council – as part of their ongoing plans to bring more personal choice in where and how people receive palliative care. It also represents the holistic and flexible nature of hospice care.
During the visit Charlie – who is known for his love of ginger biscuits – met patients and staff in the courtyard and went to bedroom windows so that everyone could see him.
Day care patient Genevieve Grey, 80, was especially happy to meet Charlie:
" I've always loved animals," she said. "If I was able to I'd have him, I'd want him to come to live with me and I'd build a shed or shelter for him."

Adele Crompton, an equine coach and coordinator who has worked at The Donkey Sanctuary in Manchester since it opened 14 years ago, said: "Donkeys have a natural emotional intelligence and react positively to human contact.

"There's something very pure about seeing an animal in front of you. There's no judgement and it takes a lot of people back to their childhood."
Eamonn O'Neal, Chief Executive of St Ann's, said:
"Everyone loves a donkey. There is something unique about these wonderful animals and the effect they have on people. It was a pleasure to welcome Charlie and Adele to the hospice, and our patients, staff and volunteers loved meeting them.  Charlie was a real hit with everyone, and his visit is proof that no two days are ever the same at St Ann's.

"Hospices use a holistic approach to care, which acknowledges every patient is an individual and goes the extra mile to ensure that those unique needs are met.  Whether that's answering a patient's wish for a takeaway meal for supper, planning a wedding for a family at short notice, or arranging special visits from guests like Charlie, we're always happy to help create those special memories."
Executives from MHCC made personal donations to fund the visit – as a mark of respect for all those involved. It also reinforces their conviction, reflected in the city's five year plan for health and social care, to put more focus on helping those nearing the end of their lives.
Councillor Bev Craig, Executive Member for Adult Health and Social Care at Manchester City Council, said: "So often we see that creative or innovative support is available in our own communities – and perhaps that's what makes the combination of care even more powerful."
MHCC Chief Accountable Officer, Ian Williamson, said: "Compassion, dignity and choice have to be the fundamental priorities that can then allow someone to adapt and relax into this stage of their life. It's also the best way to help loved ones and start those difficult, but needed conversations."
Eamonn O'Neal added: "Huge thanks to everyone involved and to MHCC for arranging the visit.  We're really pleased that the executives recognise the importance of good palliative and end of life care for everyone in Manchester, as we believe passionately that the same high quality of care that is given to people at the start of their life should be applied at the end too.  It's exciting to be able to continue to work together to ensure as many people as possible can access the specialist care hospices provide."
This is not the first time that MHCC has recognised the value of animal therapy. Recently it awarded a grant to the Noah's Art project to use animals to help patients suffering with mental health conditions like depression, schizophrenia and bipolar disease.
MHCC has also been instrumental in commissioning a palliative project with Macmillan and Pennine Acute Hospital Trust. The North Manchester Macmillan Care Support Service (NMMPCSS) service, which operates every day of the week, is for any patient registered with a North Manchester GP with a life-limiting illness who has palliative care needs.
NMMPCSS provides input to manage complex symptoms and needs, psychological, social and spiritual support. Since its launch it has helped 88 per cent of patients to achieve their preferred place of care.
To make a donation to St Ann's Hospice, please follow this link:
ENDS